Head Start Child Development

Head Start Preschool
Head Start is an income based, free, family-focused preschool program. We accept children ages three to five years old - including children with special needs.
Head Start provides comprehensive services to help prepare children for Kindergarten. Children receive educational services, family support, nutritious snacks & meals, health screenings, and mental health services.
Family Support Specialists work with families to develop and achieve family goals, while teachers provide supply school readiness skills such as language development, math & science activities, and creative arts.
Head Start thrives on parent involvement. Whether it is volunteering in the classroom, attending parent group, or participating in Policy Council, volunteering helps strengthen your relationship with your child as well as contribute to your child's overall development.
Head Start accepts applications year round, but classrooms fill up quickly. While priority is given to eligible children, higher income children as well as children with special needs, are encouraged to apply.
Winfield/Findlay Head Start
545 Winfield Ave., Findlay OH 45840
(419) 423-3147 ext. 1002 or 1003
Kenton Head Start
10702 US Highway 68, Kenton OH 43326-9206
(419) 674-4433
Upper Sandusky Head Start
559 S. Warpole St., Upper Sandusky OH 43351
(419) 209-0715
Angeline Head Start
11028 County Highway 44,
Upper Sandusky OH 43351-9056
(419) 294-4488
Ottawa Head Start
1205 E. Third St., Ottawa OH 45875
(419) 523-3228
Forest Head Start
111 East Dixon St., Forest OH 45843
(419) 273-2317
HHWP Community Action Commission
1637 Tiffin Avenue, Findlay OH 45840
(419) 423-3755 ext. 162
---
To see some of the fun learning activities that take place in the classrooms, check out our Facebook page at facebook.com/hhwpcac.
Are you looking for volunteer opportunities?
Please contact Head Start to learn how you or your organization can get involved!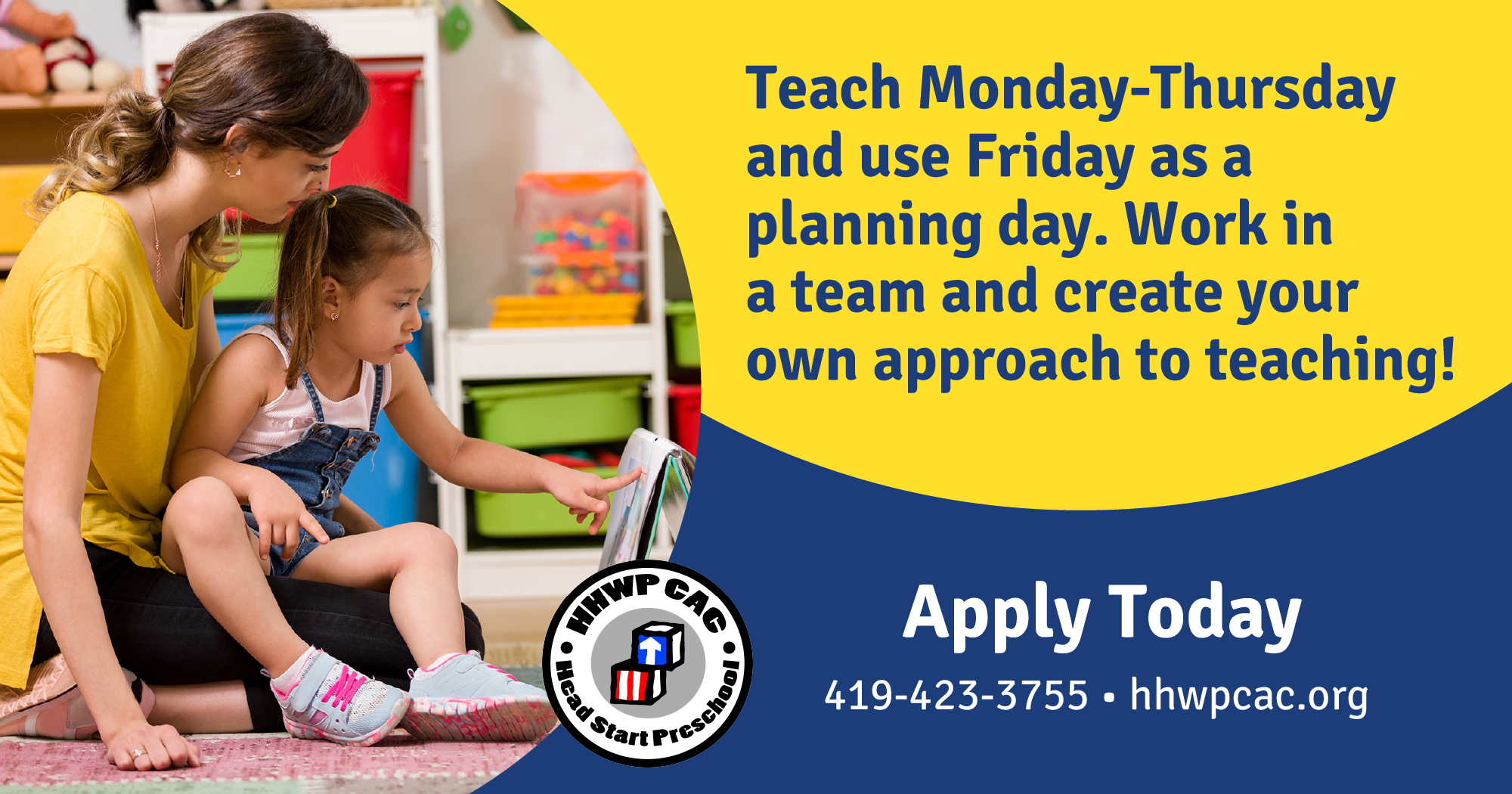 Closings and Delay Information
To receive text messages about weather related delays and cancellations for your child's Head Start classroom, please complete the following:
Log on to http://gofindlay.com
Follow the instructions to receive text messages and/or e-mail alerts.
Select a Head Start location under section 5a.
You will receive an authorization code which may take up to 5 minutes to receive.  Follow the instructions to enter the code to finish set up.
Text alerts are free, however, standard data and message rates may apply.